Piše: Vesna Bačić
Šok. Nevjerica. Gađenje. Beznađe. Gubitak vjere u čovječanstvo. Jad. To su bili samo neki od osjećaja koji su me preplavljivali još tijekom prvih minuta gledanja filma "Gospodarenje". Film je dugačak, traje točno dva sata. Toliko je težak i dubok da sam za vrijeme gledanja morala napraviti nekoliko stanki. Jer opisuje strahotu za strahotom, za strahotom, za strahotom… A jedini uzrok svemu tome je izopačen ljudski um. Žalosno, nevjerojatno žalosno.
Neopisivo je kolika mučenja i patnju prolaze milijarde i milijarde životinja… Svake godine. Svakoga dana. Svake sekunde. Iako sam i prije gledala dokumentarne filmove poput "Zemljani" (Earthlings) i "Kravozavjera" (Cowspiracy) te pogledala i mnogobrojne snimke mučenja, izrabljivanja i ubojstava životinja od strane ljudi, pa čak i na vlastite oči, ovaj film me uistinu žestoko šokirao. Međutim, odmah me i inspirirao i potaknuo na akciju – trenutačno sam napisala e-pismo ekipi "Gospodarenja" u želji da napravim titlove za film. Ekipa je bila brza, isto kao i ja, tako da su hrvatski titlovi, isto kao i sâm film, dostupni na njihovoj internetskoj stranici: http://watch.dominionmovement.com/
Svakako pogledajte ovaj film! Bez obzira na svoje svjetonazore, bez obzira na svoja uvjerenja. Budite hrabri, izdržite do kraja i dozvolite si da vam se razbiju iluzije, da vam se rastope programi, da vam briljantnost ovog (za mene) šokantnog umjetničkog djela skine povez s očiju! Naime, velika većina ljudi na ovom planetu nosi taj povez. Zapitaj se: jesi li ti jedan od njih? Okrećeš li glavu pred golemom nepotrebnom patnjom nevinih bića, koja bivaju zlostavljana, mučena i pogubljena samo zato što su njihova mrtva tijela dobrog okusa? Jer lijepo izgleda ta kožna jakna / cipele / remen…? Pozivam te da se zapitaš: je li s time sve u redu? One od vas, čiji je odgovor na ova pitanja "da", pozivam na iskreno i istinsko preispitivanje svojih vrijednosti i moralnih stavova. One čiji je odgovor "ne" pozivam da pomognete životinjama – iskreno, trenutačno i bez ikakve zadrške!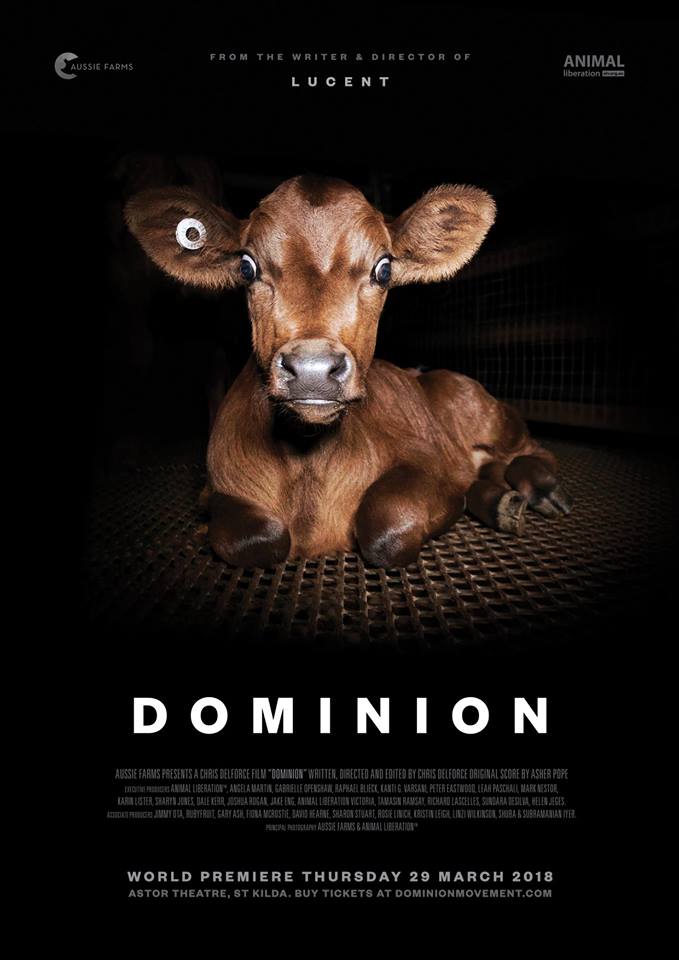 Činjenica: u ratovima u čitavoj zabilježenoj povijesti čovječanstva ubijeno je 619 milijuna ljudi. Činjenica: ljudi ubiju isti broj životinja svaka 3 (tri!) dana, a ova brojka niti ne uključuje ribu i ostala morska stvorenja čija pogibija je toliko velika da se mjeri samo u tonama. Pokušajte si u slikama predočiti tu stvarnost, koja se svakoga dana odvija na našem "lijepom, plavom planetu". Zamislite kolika je to samo količina krvi, koja se svakodnevno prolijeva! I to nepotrebno, potpuno nepotrebno. Doista se iskreno nadam da će se čovječanstvo početi buditi ubrzanim tempom. Zašto? Zato što nam ne preostaje puno vremena. Naime, ako nastavimo s ovakvim tempom izlova ribe iz svjetskih oceana, do 2048. godine morski svijet će u potpunosti nestati. U prijevodu to znači propast cjelokupnog biološkog života na Zemlji kakvim ga danas poznajemo. Hoćeš li sutra kupiti, recimo, konzervu tune? Pokušaj razmisliti o dalekosežnim posljedicama tog naizgled beznačajnog, malog osobnog čina. Da se izrazim metaforički: kap po kap – ocean.
Film "Gospodarenje" govori o brojnim načinima na koje ljudi iskorištavaju životinje: krzno, koža, skupocjeni goveđi serum nerođenih telića ubijenih trudnih krava, laboratorijska testiranja na životinjama, rodeo, cirkusi s porobljenim životinjama, … Lista se nastavlja i poduža je. Meni osobno je frapantno koje sve načine ljudi smisle kako ne samo iskoristiti životinje, ta nevina divna stvorenja, nego i kako ih mučiti, zlostavljati i na kraju pogubiti.
Znate li da mnogi od njih gledaju pogubljenja svoje braće i sestara, slušaju njihove krikove, gledaju njihovu krv kako šiklja iz prerezanih grkljana? Znate li da žderu jedni druge, nakon što se razbole i uginu u prenatrpanim hangarima, u kojima nemaju nikakvu veterinarsku njegu? Znate li da se životinje poput svinja i kokoši u klaonicama često, zbog neuspješno prerezanih grkljana, na kraju utapaju u kipućoj vodi? Znate li zašto se to događa? Zato što postoji potražnja onih koji ih kupuju, onih koji jedu hamburgere, šunku, kebab i hrenovke, onih koji piju kravlje mlijeko i jedu sir i maslac, onih peku kolače s jajima, onih koji nose kožne odjevne predmete i krzno, onih koji kupuju predmete načinjene od perja, onih koji posjećuju zoološke vrtove, Sea World i ostala mjesta "životinjske zabave", pa čak i onih koji koriste kozmetiku testiranu na životinjama. Kupovanje svega toga ima za posljedicu stvaranje potražnje, a industrija na potražnju odgovara ponudom. I tako zatvaramo krug. Sve to vrlo slikovito opisuje film "Gospodarenje".
Svatko od nas ima moć u svojim rukama. Svatko od nas odgovoran je za svoje postupke tako da bira za što će dati svoj novac. Hoće li to biti bademovo mlijeko i sladoled od soje, ili mlijeko (sir, maslac…) koze ili krave, koje je priroda namijenila njezinom mladunčetu, a čovjek joj ga je oteo, mladunčad kao višak najčešće zaklao, a nju, majku, zbog njezina mlijeka godinama svakodnevno izrabljivao. Svatko od nas ima izbor – kupiti proizvod na biljnoj bazi, ili onaj koji potječe od životinje. Svatko od nas odgovoran je za svoje postupke i njihove posljedice. Koji je tvoj osobni izbor? Uključuje li nevinu žrtvu životinje koja nije htjela umrijeti?
No, hajdemo se još vratiti na film. Ustvari, tu se ne radi samo o filmu nego i o cijelom pokretu. Naime, redatelj i producent filma Chris Delforce je sa svojim timom cijelu stvar osmislio i kao pokret za prava životinja. U Australiji, gdje je i snimljena većina filma, nakon njegova objavljivanja održana su javna prikazivanja filma, ulični prosvjedi… Chris Delforce je izuzetno talentiran mlad čovjek, koji je čak sedam godina svog života uložio u ovaj film. Pogledajte intervju s Chrisom na sljedećoj poveznici, gdje priča o samom procesu nastanka filma i svom iskustvu:
Jedino netko izuzetno hrabar, čvrst i odlučan može izdržati tu svu patnju i bol, kroz koju neminovno prolazi i kao tvorac filma. Tako da – svaka čast, Chris!
Završit ću ovaj članak s nekoliko rečenica iz samoga filma:
"Istina glasi da ne postoji humani način kako ubiti nekoga tko želi živjeti. […] Govorimo da su kvalitetno proživjeli svoje živote i da ne znaju što ih na kraju čeka, i da ne osjete baš ništa. Ali oni osjete. Njihovi konačni sati, minute i sekunde uvijek su puni straha, uvijek su puni boli. Nikad nemaju voljnost ili želju za umiranjem, nego točnije – očajnički pokušaj živjeti uz mahnitu borbu do posljednjeg daha. […] Oduzimamo im djecu. Oduzimamo im slobodu.
Oduzimamo im živote, […] Vjerujemo da smo, u svojoj navodnoj nadmoći, dobili pravo provoditi silu, autoritet i gospodariti nad onima koje vidimo kao podređene, a za naše vlastite kratkovidne ciljeve.
To opravdanje smo već koristili: bijelci kako bi porobili crnce ili im oduzeli njihovu zemlju i djecu; nacisti kako bi ubijali Židove; muškarci kako bi ušutkali i potlačili žene. Jesmo li osuđeni na ponavljanje povijesti uvijek iznova? Da li ovaj kompleks superiornosti, ova čista sebičnost, definira tko smo kao vrsta? Ili smo sposobni za nešto više?"