To što u nekim proizvodima nema sastojaka životinjskog porijekla ne znači da su automatski veganski, tj. etički ispravni.
Piše: Diana Didulica
S porastom Veganskog pokreta / Pokreta za oslobođenje životinja u svijetu i sve većom osviještenosti o pravima životinja i njihovom brutalnom iskorištavanju u gotovo svim aspektima života, neprestano raste i potražnja za alternativama koje su dobivene na etički prihvatljiv način. Koliko su sve pore života prožete iskorištavanjem životinja može se naslutiti i iz činjenice da se namirnice koje se bez problema mogu proizvesti iz biljnih sirovina uglavnom proizvode od životinja, često kao nusprodukt mesne industrije (jer "jeftino" je, ako izuzmemo da je netko platio životom). To otežava pronalazak prehrambenih, kozmetičkih, odjevnih i drugih proizvoda dobivenih isključivo bez iskorištavanja životinja. S druge strane, budući da pokreti za prava životinja ipak rastu i sve veći broj ljudi mijenja svijest i način života u smjeru održivosti, prehrane biljem i upotrebe biljnih proizvoda proizvedenih bez okrutnosti prema životinjama, svojom potražnjom donijeli su procvat mnogim industrijama, od čega je nastalo cijelo novo tržište.
Nadalje, tu su prisutne i profitom vođene industrije u stalnoj potrazi za novim i što jeftinijim alternativama postojećim sirovinama, osobito za hranu i gorivo, a primjer toga je proizvodnja šećera ili palminog ulja kao višestranih jeftinih sirovina koje se nalaze i u ogromnom broju prerađenih prehrambenih proizvoda. S obzirom na to da je palmino ulje postalo gorući problem – industrijski uzgoj palmi za dobivanje ulja uzrok je krčenju prašuma i narušavanju okoliša, naročito u Indoneziji i Maleziji koje su najveći proizvođači toga ulja – pojavilo se pitanje etičnosti njegove upotrebe. Iz tog razloga mnogi potrošači ne kupuju proizvode s palminim uljem, a nakon saznanja o štetnim posljedicama njegove proizvodnje počela je rasti potražnja za kokosovim uljem kao ekološkom i etičkom alternativom. No je li kokosovo ulje uvijek "etičko"?
U mnogim državama, pretežno Azije, kokose ne beru ljudi nego majmuni, jer su spretni u brzom penjanju na velike visine i mnogo brži u branju od ljudskih radnika, a ne primaju plaću za rad. U članku Je li zlostavljani majmun ubrao vaš kokos? objavljenom u Huffington Postu 21. 10. 2016. (datum ažuriranja) navode se osobine majmuna koji rade kao berači na plantažama kokosovih palmi:
"Na službenoj stranici jednog centra za dresuru majmuni su opisani kao – učinkovita radna snaga u poljoprivrednoj industriji – i navodi se da su – jaki… ne boje se visina, ne žale se, ne traže povišicu… Ne zahtijevaju socijalno osiguranje i osiguranje od nezgode. – Majmuni se stoga smatraju – živim strojem – koji ima visoku vrijednost za poljoprivrednike. S druge strane, ti majmuni ne samo da su poželjni radnici, nego se s njima postupa na izrazito okrutnije načine nego s ljudskim radnicima, između ostaloga: Tijekom i nakon dresure majmuni su privezani ili zatvoreni u kavezu 24/7, ponekad uz malo ili nimalo mogućnosti za socijalizaciju. Otkuda dolaze ti majmuni? Prema riječima jednog trgovca majmunima, – Ponekad su potomci beroka (već treniranih majmuna); ponekad ih [lovokradice] ulove u šumi s pomoću mreža ili zamki. No često upucaju majke koje doje, a njihove bebe odvedu. –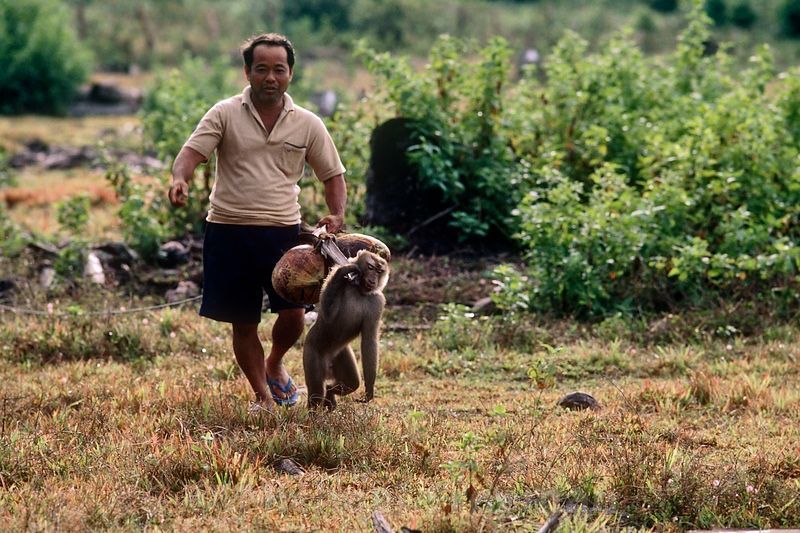 Iskorištavanje majmuna nije česta tema u krugovima zaštitara životinja na zapadu, u zemljama u kojima oni nisu autohtone vrste. U europskom području najviše se za rad iskorištavaju goveda i konji, no s upotrebom mnogo bržih i jačih strojeva i ta praksa polako izumire. Poznatiji primjeri iskorištavanja i zlostavljanja majmuna u nas povezani su s cirkusima, zoološkim vrtovima i naročito vivisekcijom u okviru farmaceutske i kozmetičke industrije, što je zasebna tema i velik problem kojim se razne organizacije bave već desetljećima.
U zemljama južne i istočne Azije iskorištavanje majmuna u razne svrhe široko je rasprostranjeno. Glavno opravdanje su siromaštvo i slabe mogućnosti zarade. Primjerice, u reportaži iz Jakarte na YouTubeu pod nazivom Monkey Business prikazano je nekoliko slučajeva iskorištavanja majmuna (makakija) za zabavu u Indoneziji i kako se odvija njihova dresura. Majmuni se dakle, osim za berbu na plantažama kokosa, iskorištavaju i kao zabavljači koji sa svojim "gazdom", odjeveni i često noseći masku, obilaze naselja i izvode trikove ili prose na prometnicama, a neki provode život u kavezima odakle izlaze samo kad ih netko unajmi na nekoliko sati za zabavu. Dreseri nabavljaju majmune od lovokradica na tržnici životinjama – majmun mora biti što mlađi, a najčešće je dijete oteto od majke koja je ubijena.
Prvo se uči stajati kao čovjek, vezan oko vrata lancem koji je pričvršćen iznad njega, i to dovoljno kratkim da je onesposobljen spustiti se na sve četiri. Pritom su mu "ruke" svezane na leđima da se ne može penjati po lancu. Takvo mučenje služi razvijanju mišića nogu u majmuna i započinje s dva sata torture dnevno pa se produžuje i na kraju traje i do 12 sati, pri čemu se i lanac dodatno skraćuje tako da majmun na kraju stoji samo na vrhovima prstiju. Koliko je pomanjkanje svijesti o patnji životinja može se iščitati iz objašnjenjâ koja na snimci navode ulični zabavljači i iznajmljivači koji rade s majmunima: "to je tradicija", "u džungli bi im bilo grozno", "on je naš prijatelj".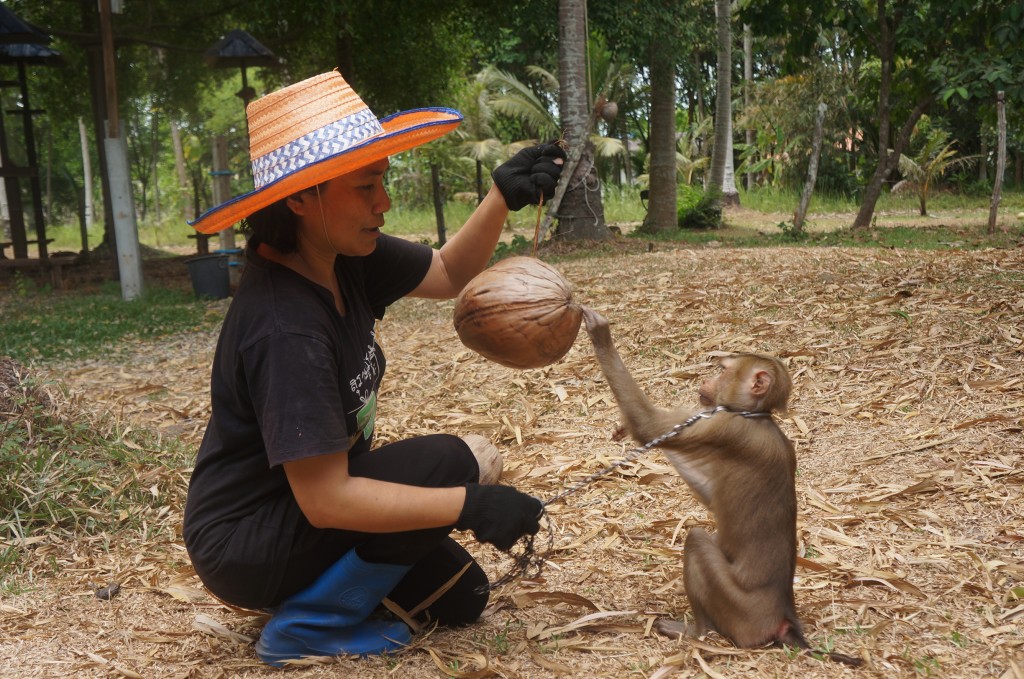 Slična mizerija majmunskog (doduše, i ljudskog) života može se vidjeti u reportaži The Monkey Man iz Karachija. Siromašni stanovnik sirotinjskog šatorskog naselja bez vode i infrastrukture preživljava od dresiranja majmunâ da plešu i kreću se kao ljudi, kao što su preživljavale i generacije njegove obitelji prije njega. S obzirom na to da nije obrazovan ni pismen, nema nade da će ikada raditi drugi posao. U Pakistanu je obrazovanje, posebno javno financiranje obrazovanja i dostupnost siromašnim slojevima društva velik problem, tako da ni njegova djeca nemaju pristup obrazovanju i ne čeka ih bolja sudbina. Na snimci možemo vidjeti kako se dresira majmuna, gdje se s majmunom postupa kao s nešto malo boljom igračkom.
S obzirom na to da se osuda iskorištavanja životinja uglavnom može čuti iz užih krugova inicijativa i organizacija za prava životinja, a i tada se često radi samo o sitnim korekcijama uvjeta u kojima životinjski robovi žive i rade, o pukom ušminkavanju da bi se prosječnom "zabrinutom" građaninu umirila savjest, teško je moguće da će u bliskoj budućnosti doći do većih promjena nabolje. Štoviše, možda je budućnost takva da će nas u radu zamijeniti majmuni, a ne strojevi i umjetna inteligencija – ipak su neusporedivo jeftiniji, a lako uče i anatomski su nam slični. Kako spomenuti članak navodi za majmune-berače:
Iako se u mnogim člancima o ovim majmunima navode tvrdnje trgovaca da se brinu o svojim životinjama, teško je potvrditi njihovu vjerodostojnost s obzirom na dugotrajan i težak rad, neprestanu okovanost i manjak autonomije na koje su prisiljene ove životinje, dan za danom, bez ikakve osobne koristi. Jedan je trgovac priznao da su ,majmuni ponekad toliko umorni od berbe kokosa da se onesvješćuju' – navodi se u članku u Bangkok Postu.
Posao im uključuje penjanje na palme, berbu kokosa, skupljanje kokosa u visokom raslinju, dohvaćanje raznih alata dreserima, između ostaloga i oštrih predmeta, tovarenje kokosa na kamione kojima se onda i njih prevozi s jedne na drugu lokaciju za branje.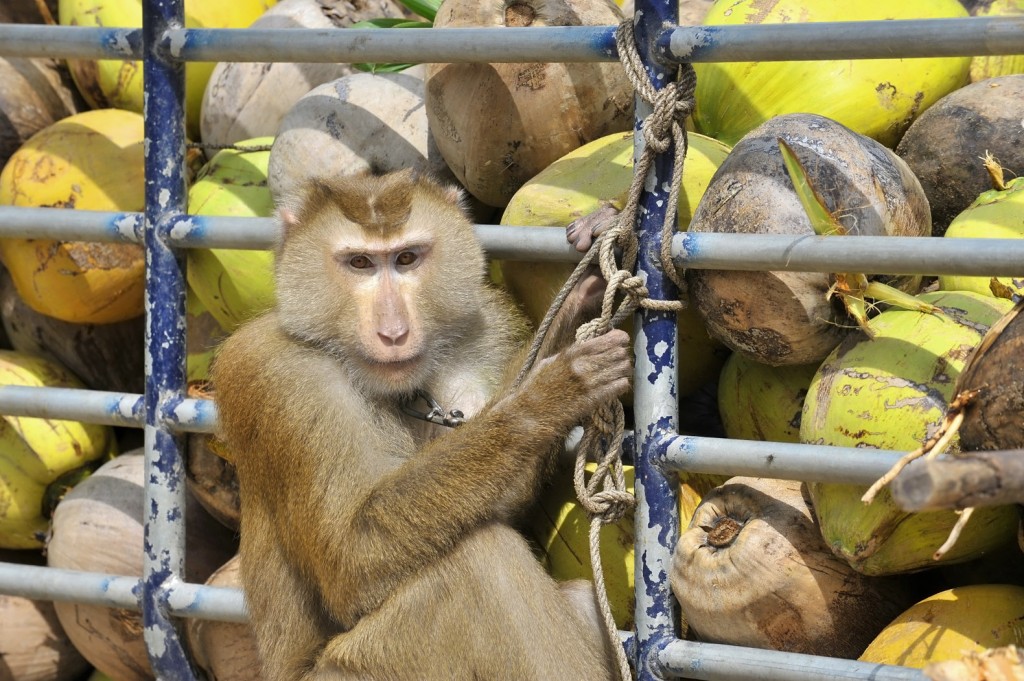 Osviješteni potrošači – ljubitelji kokosovog ulja i ostalih derivata iz kokosa još uvijek imaju izbor kupnje tih proizvoda koji su certificirani kao "poštena trgovina" (fair trade) i dobiveni bez iskorištavanja životinja. Bojkotom proizvoda od kokosa iz zemalja koje su problematične, kao što su Tajland, Indonezija, Šri Lanka i Malezija, mogao bi se stvoriti pritisak na dobavljače i proizvođače da ukinu nepoštene prakse iskorištavanja radnika, i ljudskih i ne-ljudskih. Valja napomenuti i da nije svaki kokosov proizvod iz navedenih zemalja dobiven robovskim iskorištavanjem, tako da bi idealan scenarij uključivao informaciju s koje plantaže kokos dolazi i kakav se način rada primjenjuje na plantaži, ali do takvih informacija teško je doći.
Razne organizacije koje se bave zaštitom životinja kontaktirale su proizvođače i dobavljače te sastavile popis onih proizvođača/dobavljača koji ne iskorištavaju rad majmuna. Neki proizvođači/dobavljači nisu se uopće izjasnili, neki su odgovorili da ne znaju, a popis onih koji su naveli da se majmuni ne iskorištavaju u berbi uključuje: 3 Buddhas, Aunt Patty's, BetterBody Foods, Carrington Farms, Dr. Bronner's, Earth Circle Organics, Harmless Harvest, Maison Orphee, Naked Coconuts, Nutiva, Ojio, So Delicious, Silk i Spectrum Organics.
Sljedivost u lancima proizvodnje, opskrbe i prerade često ni u Europskoj uniji nije transparentna, a kad se radi o zemljama izvan EU-a to naprosto postaje nemoguća misija. Ostaje i dilema je li izjava nekog proizvođača/dobavljača bila istinita – primjerice, upućeni tvrde da se na Tajlandu 99 % kokosa ubire radom majmuna i teško je moguće da je kokos odande dobiven na drukčiji način, tako da ni izjave o "etičnosti" porijekla kokosa nisu pouzdane. Za Hrvatsku još nema popisa, ali radi se na tome i nadamo se da će nam dobavljači izaći u susret.
Čini se da je siromaštvo u svim društvenim krugovima i klasama opravdanje za nepravdu – kad se ta nepravda nanosi životinjama. O nepravdi prema ljudima mišljenja će već biti podijeljena – ovisi o tome koga se pita. Neki vlasnik tvornice u Kini ili rudnika u Keniji možda se neće previše zanimati ni za dobrobit ljudskih radnika koji za njega obavljaju teške fizičke poslove u neizdrživim uvjetima i za prenisku naknadu. S druge strane, mnoge će organizacije i sami radnici osuditi takve prakse i raditi na tome da se te prakse ukinu, a radnici ostvare svoja prava.
U odnosu na ljude, životinje nemaju baš nikakva prava i nikakvu slobodu, nemaju pravo glasa niti pobuniti se, a nisu sudjelovale u kreiranju ovoga sustava i nemaju nikakve koristi od rada u njemu, nego samo štetu. Svedene su na status predmeta, oruđa, robe i hrane, a zanemarene su im osobnost, svijest i osjećaji, a njihov je jedini "grijeh" to što postoje. Mnogi će zagovarati iskorištavanje ljudi upravo iz istog uvjerenja iz kojega se iskorištavaju i životinje: "tko je jači, taj kači", tj. socijalnog darvinizma i eugenike koji su često instrument djelovanja ideologija fašističkog predznaka. Nema razlike ni kad se radi o životinjama.
Siromah iz Karachija nije kriv za tešku situaciju u kojoj se nalazi, kao ni farmer na plantaži koji mlati majmune do besvijesti da brže rade – oni su u ljudskom društvu na samom dnu hijerarhije i zarađuju tragično malu plaću. Naučeni su da životinje nemaju prava jer iz ljudskoga gledišta smatrane su nižim bićima, kao što su gotovo svi ljudi danas odgojeni od samog rođenja. No životinje su još manje krive od njih, a na njima se sve lomi, i to na najsvirepije načine.
Usporedimo li iskorištavane ljude i iskorištavane životinje, ljudi još uvijek nisu (ili točnije: više nisu – barem u većem dijelu svijeta) vezani lancima i užadi. Majmuni na farmama inteligentna su i svjesna bića koja provode svoj život u totalnoj podložnosti čovjeku i teškom radu. Čak i "Thke Money Man", čovjek s dna socijalne ljestvice, ima jednog roba na lancu koji radi za njega. Korijene problema treba tražiti u sustavu, na njegovu vrhu, i umjesto okretanja zlostavljanju i iskorištavanju životinja, isti ti ljudi trebaju se okrenuti protiv svojih zlostavljača.
Kapitalizam nije pravedan društveno-ekonomski sustav, u njemu nema poštene zarade jer ta zarada uvijek negdje povlači početnu nepravdu, bilo u obliku politički potpomognute pljačke, bilo u obliku neplaćenog rada u robovskim uvjetima, bez obzira na to koliko se mi pretvarali da taj rad ne vidimo i ne znamo za njega jer je možda obavljen daleko od naših očiju i na drugom kraju svijeta. I ovaj tekst napisan je na računalu koje je vjerojatno sklopilo neko "žuto dijete", a sirovine za komponente izrudarilo je neko "crno dijete", za sramotno nisku ili nikakvu nadnicu (ako se dječji rad uopće može mjeriti nadnicama jer dječjeg rada ne bi smjelo ni biti). I taj majmun postao je rob čovjeku već kao dijete, bez nadnice osim hrane koju "milostivo" dobije od "gospodara" – a koju bi na slobodi sebi priskrbio sâm!
Da bi se ovaj konkretni problem riješio, treba početi stvarati pritisak na proizvođače i dobavljače, a posebno na zakonodavce da se pozabave i ovim pitanjima. Paradoksalno je da se sustav koji tvrdoglavo ne popušta pred pritiscima da se odrekne nepravednih i štetnih praksi i odnosa, dodatno okorištava novim mogućnostima nepoštene zarade na novim tržištima, stvarajući tako još više štete i još više nepravde – i to zahvaljujući spremnosti potrošača da promijene svoje navike, životni stil i potražnju upravo zato da bi se ta ista šteta i nepravda smanjile i na kraju ukinule.
Ako stremimo nekakvoj solidarnosti, uviđavnosti i većoj pravdi kao odlikama naprednoga društva, ovo su nezaobilazne prepreke u postizanju tih ciljeva. Naposljetku, takav sustav nije održiv čak i kad isključimo etički aspekt jer ostaje nam problem zaštite okoliša, a njega nije moguće ignorirati bez trajnih štetnih posljedica.