Žrtvi je potpuno svejedno ima li ubojica dozvolu ili ne! Lovac ili krivolovac za nju su potpuno isti i zato stanimo na stranu slabijih i pomozimo im da ne budu žrtve ljudske obijesti. 
1. MEĐUNARODNI PROSVJED ZA ZABRANU LOVA
Subota, 27. 10. 2018. u 11 sati
Trg Josipa Jurja Strossmayera, Zagreb
(Jedan od najljepših trgova u Zagrebu koji se nalazi između Zrinjevca i Trga kralja Tomislava.)
.
U subotu, 27. 10. 2018. u 11 sati na Trgu Josipa Jurja Strossmayera održat će se 1. međunarodni prosvjed za zabranu lova u organizaciji inicijative Oslobođenje životinja. Jasno nam je da životinje imaju svijest, da osjećaju, što znači da imaju mogućnost fizičke i emotivne patnje te da njihov život sam po sebi ima intrinzičnu vrijednost i zato je potpuno neprihvatljivo da ljudi koji sebe nazivaju lovcima i tvrde da vole životinje i prirodu, da upravo oni u današnje vrijeme iz čiste obijesti pucaju po životinjama, ranjavaju ih, ubijaju, razaraju njihove obitelji i sve to uz obilnu financijsku i političku podršku države, tj. političkih elita.
Dok jedni spašavaju i liječe životinje, drugi bjesomučno pucaju po njima.
Sve više ljudi ima izrazito negativan stav prema hladnokrvnom pucanju po nedužnim životinjama što se odražava i na sve manji ukupan broj lovaca koji je u 2016. manji je za 2,1%, a broj članova lovačkih društava je manji za 1,8% te broj pripravnika odnosno budućih lovaca za 18,7% u usporedbi s 2015. godinom. No unatoč smanjenju broja lovaca, u 2016. godini lovci su ipak hladnokrvno ubili 4 250 bespomoćnih jelena, što je povećanje od 3% u odnosu na 2015. godinu, a bešćutno su ubili i 29 563 slobodnoživućih (divljih) svinja, što predstavlja 9,5% više ubojstava u usporedbi s 2015 godinom. Vegani koji se bore za prava životinja zato pozivaju da zajedničkim snagama zaustavimo ovo ludilo, lov mora postati prošlost!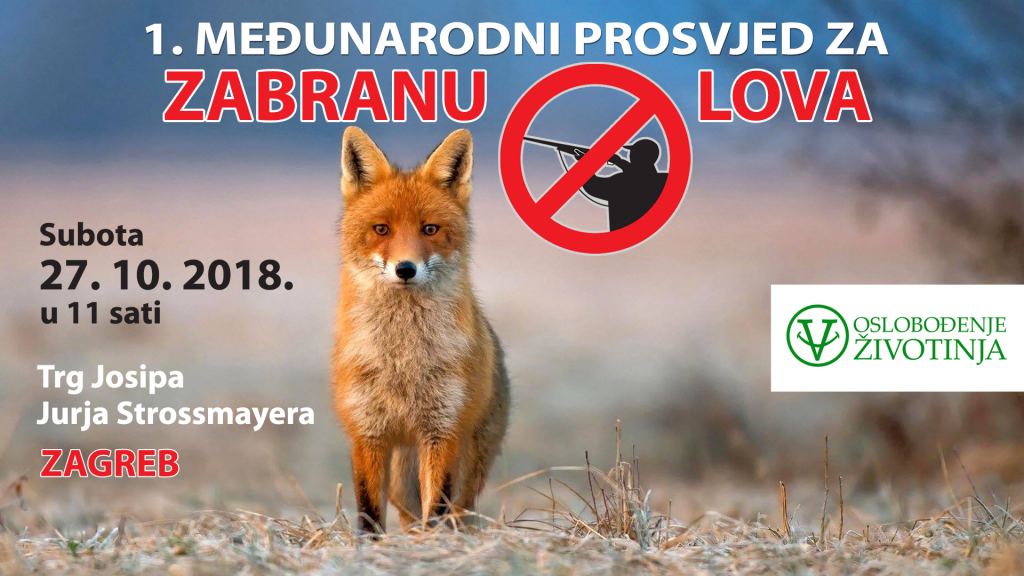 Kao da situacija nije već dovoljno teška za proganjane životinje kojima se prirodni životni prostor iz godine u godinu sve više smanjuje jer im ljudi otimaju zemlju da bi gradili ceste, gradove, ograđivali svoje njive itd., po čijim leđima jaše 1050 registriranih lovačkih društava sa svojim članovima povampirenim za što boljim "trofejima", čitaj – leševima jadnih ubijenih životinja, kao da to sve nije dosta pa je u prilog ovom ludilu iživljavanja po prirodi i pucanju po bespomoćnim životinjama Ministarstvo poljoprivrede još raspisalo natječaj od milijun kuna za masovna ubojstva lisica i čagljeva. Milijun kuna iz džepova nas poreznih obveznika koji se u potpunosti protivimo tom masakru.
Životinje, bilo one koje žive u šumi ili one koje su uzgojene na farmama, ne mogu biti istinski zaštićene dokle god nemaju Ustavom i zakonom zajamčena temeljna prava:
– pravo na život
– pravo na slobodu
– pravo na tjelesnu cjelovitost
– pravo na roditeljstvo / razmnožavanje
– pravo na prirodno životno stanište
I zato dođite na prosvjed i recite tom ludilu jasno i glasno – NE!
Program:
11:00
Okupljanje na Trgu Josipa Jurja Strossmayera
11:30
Oblikovanje prosvjedne kolone i pokret prema Trgu bana Jelačića, zatim Ilicom i Frankopanskom do HNK, pa Masarykovom i Preradovićevom do Cvjetnog trga, pa Bogovićevom, Gajevom i Teslinom do Zrinjevca i natrag do Strossmayerovog trga. Tijekom prosvjedne povorke bubnjat će udaraljkaška skupina Drum 'n' bijes.
12:30
Tri govornika, svaki po pet minuta:
– Mislav Skrepnik (Snaga bilja)
– doc. dr. sc. Ljudevit Fran Ježić (Filozofski fakultet, Zagreb)
– Robert Međugorac (u ime organizatora prosvjeda)
13:00
Dođi, zeko, dođi! Javna izvedba (performans) zvuka i puno više…
U suradnji Vesna Mačković i Valent

 NT Wave Samardzija

 uz podršku ARKTIK – The Institute for the Future. Dođite na izvedbu, zapjevajte s nama lovačku pjesmu i zaigrajte zekinu igru!
Lovačka pjesma drumom se ori,
tek da bi utihnula već na rubu šume,
mali zeko kroz grmlje proviruje,
čeka on da igra započne!
13:15
Druženje i veganska klopa (udruga Avokado) na licu mjesta, a u slučaju kiše u prostoru Zelene akcije                     (Frankopanska 1, Zagreb).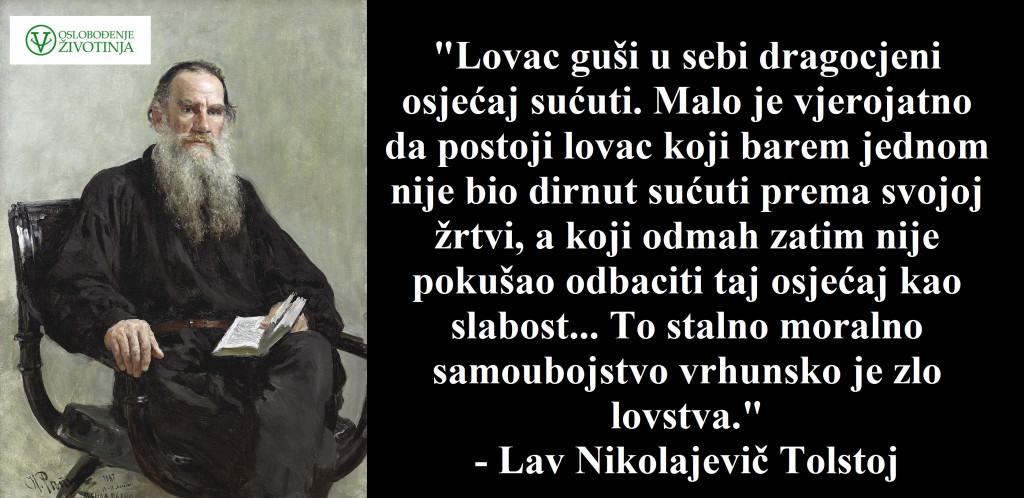 Ovdje možete vidjeti Fejs događaj: https://www.facebook.com/events/482337488911495/
Upucati slobodnoživućeg jelena je jednako moralno pogrešno kao i zaklati uzgojenu kravu. U oba slučaja radi se o čistom obijesnom zlosilju ljudi nad nedužnim i bespomoćnim životinjama.
Dolje možete pogledati niz video najava poznatih ljudi i aktivista koji vas pozivaju na prosvjed:
"Mislim da se radi o nečem puno dubljem, mislim da se radi o psihički deformiranim osobama, koje ustvari svoje frustracije, koje imaju zbog nekih svojih nezrelih želja koje ne mogu ostvariti, onda ustvari prenose na onaj svijet u kojem oni mogu dominirati, a dakako da svaki čovjek koji ima pušku u ruci dominira, jasno da može pobiti koga želi i što želi, i ne bih se začudio, premda to neki poriču, ali ja sam sasvim siguran da netko tko može s lakoćom ustrijeliti jednu životinju, nije veliki korak do ubojstva nekog čovjeka."
– red. prof. art. Mladen Tarbuk, skladatelj i dirigent
"Ljudi su, dakle, manjina u Hrvatskoj, za razliku od većine ostalih, svjesnih životinja, i umjesto da s njima živimo u miru, mi konstantno živimo u ratu s njima, iako nam one ništa ne rade nažao. Ljudi otvaraju koncentracijske logore za životinje koje nazivamo farmama, otvaraju klaonice koje su svuda oko nas, koje bjesomučno, danonoćno kolju nedužne životinje. U prilog tome ratu, Ministarstvo poljoprivrede je prije dva dana raspisalo natječaj kojim želi subvencionirati novcem poreznih obveznika… milijun kuna će dodijeliti za ubijanje nedužnih lisica i čagljeva. Nedopustivo je da se novcem nas, poreznih obveznika koji se energično protivimo ubijanju i zlostavljanju životinja, da se upravo s tih milijun kuna financira pucanje po lisicama i čagljevima, da se razaraju obitelji lisica i obitelji čagljeva. Zato tražimo ostavku ministra Tolušića. Molim Vladu Republike Hrvatske i Sabor Republike Hrvatske da prestanu pozivati na masovno prolijevanje krvi lisica i čagljeva. Nisam jedini u Hrvatskoj koji će stati pred puške lovaca i životom braniti obitelji lisica i čagljeva."
– Robert Međugorac, profesor gitare i zooetičar
"… kada je većina prostora ljudski prostor, a životinje su te gotovo koje gostuju u našem svijetu, da bismo trebali promijeniti te kodove i jednostavno se prestati iživljavati nad divljim životinjama. To je jedno blago, neki dar koji bi trebali poštovati. Meni je osobno potpuno nezamislivo da ubijem neku toplokrvnu životinju. Međutim kao Dalmatinac i Bodul ja sam jako volio ribariti… vidim s godinama da mi je sve teže lišiti života ribu, koja ustvari nije toliko specifična životinja, osim po jednom, da ugiba u tišini. Kada govorimo o toplokrvnim životinjama i o ovim organiziranim ritualima umorstava, mislim da bi bilo jako lijepo da se od toga oprostimo. Ako dečki radite neku društvenu akciju oko toga pa hajde bar da pokušamo iz ovog društva iskorijeniti naviku lova i proglasimo jedan veliki lovostaj."
– Hrvoje Hribar, redatelj i scenarist
"Razmišljala sam o tim lovcima, koji hodaju pokraj napuštenih kuća, pokraj napuštenih staraca i idu tražiti životinje koje će ubiti. Nemaju potrebu pomoći ljudima koji su još uvijek živi, kojima pomoć treba, kojima pomoći možemo, nego hodaju cijeli dan između njihovih kuća i traže bespomoćne životinje koje će upucati. Nikad nisam shvatila je li to sport, je li to zabava, nadmetanje? Ne razumijem poriv, ne razumijem potrebu da negdje vidiš divlju svinju, nekakvu vučicu, da digneš pušku da je ubiješ? Prošla su davno vremena kad su na taj način ljudi preživljavali. To je njima sport i zabava?! Zaista ne mogu to shvatiti, ne mogu to podržati, ne volim, protivim se! Životinje žive svoj život, ne diraju nas, ne vidim potrebu da diramo mi njih. Uglavnom su nezaštićene i nemoćne obraniti se. Nema stvarno nikakve potrebe hodati po šumi i ubijati srne, lisice, vukove, bilo kakvu životinju koja se ne može obraniti od 20 lovaca s puškama. Pomozite ljudima pomozite životinjama."
– Maja Sever, novinarka
"Bok, ja sam Ivona. Ako mislite da dolazi vrijeme kada bismo trebali zabraniti sav lov jer je nemoralan i okrutan, molim vas da nam se pridružite…"
– Ivona Tabak, Glas životinja
Vid Novak i Valentin Gorjanc iz Društva za osvoboditev živali in njihove pravice (Maribor / Slovenija)
"Ulaziti u staništa drugih živih bića s oružjem koje čini situaciju totalno neravnopravnom je za mene jedan od najužasnijih, najkukavičkijih činova koje mogu zamisliti."
– Roko Crnić, vokal i kontrabas
"… kad sam postao vegan otvorio mi se jedan potpuno novi svijet gdje sam shvatio da mogu biti zdrav i živjeti fit i zdrav život na veganskoj prehrani, bez životinja na svom tanjuru, zašto imam znanstvenu i svoju iskustvenu podršku, tako da pozivam sve da dođu na prosvjed. … i za mene je vrlo bitno naglasiti da ne nastaje jedna frikcija između nas i između lovaca jer mi se zapravo borimo protiv čina lova, a ne nužno protiv osoba jer za mene je svaka osoba potencijal za dobro i za loše, i na meni je da svojim primjerom pokažem da se ovo apsolutno može, da se može živjeti na veganskoj prehrani, bez ubijanja životinja i želio bih da lov ode u povijest, a da država počne financirati neke druge stvari osim mesne industrije i izlovljavanja životinja."
– Mislav Skrepnik, Snaga bilja
"Evo čujem da čak i ministarstvo dodjeljuje neke novčane poticaje za ubijanje životinja, a znamo da su ustvari lovci uzrokovali po cijelom svijetu nestanak mnogih vrsta. Stavljanje na zid preparirane glave od neke ubijene životinje i slikati se na društvenim mrežama (s ubijenim životinjama)… nije dostojno čovjeka."
– Neno Belan, kantautor
"Ako je lov nekada i imao smisla kao način preživljavanja ljudske vrste na mjestima gdje se to drukčije nije moglo, danas i ovdje to stvarno postoji jedino kao način za iživljavanje nad životinjama. Moj rijetki susreti s lovom su bili susreti s lovinom koju bi donio neki susjed ili rođak. Sjećanja na ta opuštena tijela kojima je netko nekom ranom oduzeo život, sjećanje na perje i na krzno tih životinja. U ovo vrijeme kad na svijetu postoji još nekih 3% površine koja je ostala divlja, a sve ostalo je čovjek svojom zemljoradnjom, gradovima, cestama prekrio, stvarno je neodgovorno i glupo još na tim malim oazama divljine ulaziti s puškama i ubijati životinje i to bez ikakve nužde. Neki se lovci pokušavaju opravdati time da je njihov lov planiran, da oni održavaju ravnotežu životinjskih vrsta, što nije točno. Evo imamo primjer Ženevskog kantona gdje su valjda prije 30 godina možda i više zabranili lov i posljedica nije bila da su se naglo namnožile lisice, veprovi, nego je ravnoteža ostala sasvim dobra. Bilo je sve više ptica, kukaca, svega onoga što i ljudskoj proizvodnji hrane koristi, tako da tu opravdanja nema."
– Darko Rundek, kantautor
"… vodili su svog unuka sa sobom u lov i unuk je vidio da je did upucao srnu i vidio je kako je srna patila, strašno je patila i on je postao veliki borac protiv lova. Nikada više nije išao u lov s djedom i to mu je rekao zašto. Ja sam ljetovala u Gorskom kotaru u jednoj vili mojih poznanika i vidjela sam gostionica je bila blizu uz cestu ondašnju i zaustavio se jedan kamion pun malih telića koji su strašno plakali, plakali jer je bio vrući dan, a ako se nisu sjetili da im daju vodu za te jadne teliće, barem vode da im daju. Oni su ušli u gostionu, tamo su pili, jeli, zabavljali se, a ovi su cijelu noć jaukali i plakali k'o djeca i ja nisam tu noć uopće mogla zaspati. Toliko mi je strašno to bilo i njihove oči su me progonile, gladne oči jadne, ono ustrašene, da sam od toga dana više nikada, nikada nisam poželjela da pojedem komad mesa."
– Bosiljka Milun, umirovljenica
Gospođa Bosiljka Milun rođena je 1917. godine, a meso je prestala jesti 1970. godine.
" Meni osobno je bilo malo neugodno prvi put doći na prosvjed i hodati po gradu, ali poslije mi je bilo jako drago i pozivam vas da prijeđete tu barijeru i date glas onima koji se ne mogu izboriti sami za sebe. Živimo u vremenu u kojem je iskorištavanje životinja i ubijanje životinja dovedeno do vrhunca, do najvećih ekstrema, u kojem se za to više ne biraju nikakve humane metode, i mislim da je vrijeme da se ljudi probude, da pokažemo da nismo baš toliko odvratna vrsta. Meni se nekako čini da se većina ljudi slaže sa mnom, ali da svojom šutnjom podržava takav sistem. Lov ničemu ne služi, nema apsolutno nikakvog smisla. Priče da se lovom održava ravnoteža i pomaže životinjama… stvarno se nadam da nitko više ne puši takve priče. Ja osobno ne mogu vidjeti maltretiranje životinja, maltretiranje slabijeg od sebe i uopće mi zapravo nije jasno na koju foru je lov legalan i zašto je to normalno svima. Meni apsolutno nije i nekako mi se čini najnormalnija stvar da bi trebao biti zabranjen. Pozdrav iz Los Angelesa, iz Hollywooda! Ja se ovdje borim za iste svrhe pa ako bi me netko zamijenio doma bilo bi mi drago. Los Angeles je nedavno zabranio uopće prodaju krzna, prodaju proizvoda testiranih na životinjama, ovo je najveganskiji grad na svijetu. Jako puno ljudi postaju vegani, pogotovo mlađi i nekako mi se čini da je to neka budućnost koja će se onda širiti iz Amerike dalje, iz Los Angelesa. Odaberite biti na dobroj strani povijesti."
– Filip Sertić, glumac
"Mi ljudi imamo u sebi nekakve strašne gadne instinkte. To se vidi kad izbije rat pa se onda s neprijateljevim glavama igra nogomet, pa se ženama otvara utroba… Lov je jedan dio toga. Ja sam nedavno doznala da kod nas postoji studij za lov, gdje postoji nekakva ideologija da je to dobro, da oni vole prirodu, da je Bog stvorio svijet da bi čovjek govorio tko će živjeti, a tko neće živjeti. Pucati u životinje za svoje neko zadovoljstvo, to je nešto prestrašno. I onda još stave po kućama one rogove kojih bi se ja sramila da imam samo jedne, a oni imaju rogova cijele kuće i razne neke druge životinje, glave po podovima. Ja bih se toga sramila. Ako žele biti sportski pa žele dokazati kako oni brzo mogu, ne znam, slijediti jednu životinju to se sve može napraviti na nekakvim ciljalištima, u kružić manji pa onda je tamo sredina, to se može tako odraditi da se pokaže kako je netko brz s puškom i točan, a ne zbog toga ubiti jedno živo biće. Jedan razgovor s jednim mojim prijateljem koji se hvalio sa svojim prijateljem koji je bio u Africi koji je ulovio, tj. ne ulovio nego upucao tri lava ogromna, ali to je strašno, a ne lijepo. "Pa ne, ne", kaže, "to u tom području, to je tamo dozvoljeno.", a ja rekoh: "Aha dozvoljeno je, znači ako bi u nekim državama bilo dozvoljeno da se ljudi ubijaju, onda bi bilo takvih športaša koji bi išli ubijati ljude.", i onda je čovjek zanijemio. Dakle, tu moramo vidjeti negdje koji su naši osjećaji i naša empatija. Ja mislim da bi Hrvatska mogla to dostići, da dostigne jedan malo viši nivo ljudskosti. I da, odiozno je da naše Ministarstvo poljoprivrede daje nagrade kao stimulaciju za odstrel nekih životinja. To je ubijanje, nemojmo se varati. To je ubijanje. Kako se može neko živo biće ubiti, a Ministarstvo poljoprivrede još daje za to nagrade, to sam još htjela reći, to je sramotno."
– Dunja Vejzović, operna pjevačica i glazbena pedagoginja
"Zašto treba podržati ovaj protest, zato što je lov, ja smatram, a mislim da većina tako smatra, nepotreban, besmislen i nemoralan čin. Nekad je lov i imao svoju funkciju, nekada davno kada su lovci koristili te životinje za ishranu jer nije bilo drugih mogućnosti, danas to nije slučaj. Također, lov nije sport, jer je sport aktivnost u kojoj učestvuju obje strane koje imaju jednake mogućnosti, jednake startne pozicije za pobedu i poraz, u lovu zna se ishod. Također mislim da se čovek ogradio od životinja tako što smatra da one nisu osećajna bića. Životinja kao i čovek oseća strah, patnju i bol."
– Anđelija Milašinović, etnologinja, zavod za zaštitu spomenika i kulture Beograda
"Kada govorimo o lovu, mislim da je zapravo većina ljudi protiv te prakse, međutim velika većina ljudi, ista ta većina ne radi ništa ili radi vrlo malo da se s takvom praksom prestane. Generalno odnos čoveka prema životinjama je odnos eksploatacije, međutim ukoliko želimo da se borimo protiv takve vrste odnosa možemo da se borimo negde na ličnom nivou, a možemo da se borimo nekim aktivizmom, učestvovanjem u nekim protestima. Kada govorimo o korištenju životinja za našu ishranu, odevanje ili odlaske u zološke vrtove, tu borbu i možemo svesti na lični nivo, ne kažem da treba, ali možemo, to će se na neki način i osetiti, ali kada govorimo o lovu borbu ne možemo svesti na lični nivo već moramo izaći na ulicu jer ako smo protiv lova mi verovatno ne lovimo, ali to ne sprečava lovce da oni i dalje rade to što rade."
– Milica Milašinović, filozofkinja, Beograd
"Ne-ljudske životinje danas se ubijaju na brojne okrutne načine i masovno. U industriji smrti, klaonicama, je vjerojatno najmasovnija smrt životinja, odnosno najmasovnija patnja životinja. Neki od najokrutnijih poteza koje ljudi vrše nad ne-ljudskim životinjama zbivaju se u znanstvenim laboratorijima. Međutim postoji jedan način mučenja i ubijanja životinja koji je u određenom smislu moralno izopačeniji, moralno problematičniji u svakom slučaju nego bilo koji drugi način, a to je mučenje, proganjanje, ubijanje životinja u svrhu zabave i u svrhu užitka, ljudskoga užitka – to je lov. U uvodnim kadrovima filma "Seljačka buna" Vatroslava Mimice, obijesni feudalci Franjo Tahi i njegova svita proganjaju jednog nevinog i bespomoćnog kmeta da bi ga ubili, tako se zabavljaju. Kada bismo istu scenu zamislili s nekom ne-ljudskom životinjom većini ljudi vjerojatno ne bi bila toliko odvratna, toliko odbojna, ali zamislite samo to, netko da bi se zabavljao, da bi doživio neki užitak jedno bespomoćno biće koje je nevino proganja da bi ga na koncu ubio. To je ono što se zbiva ne u nekoj dalekoj povijesti, kada je lov možda i imao nekog opravdanja, e da bi se ljudi prehranili, nego se zbiva tu u našoj visoko tehnologiziranoj civilizaciji kada je ljudima bukvalno sve dostupno kako bi mogli preživjeti, to se zbiva tu, oko nas, u okolici naših gradova i sela. Naravno, lovci će vam reći da oni to rade iz nekih drugih razloga, ne da bi se zabavili ili da bi doživjeli užitak. Oni to rade, navodno, da bi se na neki način vratili prirodi, oni to rade, kažu, zato da bi uspostavili neku vrstu balansa ili ravnoteže u prirodi. Oni to rade kao zaštitari prirode, tako tvrde. Međutim to je vrhunac cinizma. Priroda može bez čovjeka, priroda može bez tog unošenja ravnoteže od strane čovjeka u prirodu. Ono što nakon svih računica ostaje, jest da je to besmisleno ubijanje koje se ne opravdava nikakvim drugim svrhama osim onim banalnim koje ne bi smjele biti uvažene u etičkom smislu. Iz tog razloga je lov možda i moralno najizopačenija, kao što sam to već rekao, vrsta iskorištavanja, mučenja i ubijanja životinja i ono što bi trebalo prije svih drugih oblika mučenja, iskorištavanja i ubijanja životinja prestati. To je čisto iživljavanje moći i nije slučajno da upravo oni najmoćniji, financijski najmoćniji, politički najmoćniji, posebno vole lov. Oni na taj način iživljavaju svoju moć nad nedužnim, bespomoćnim životinjama, kao što s druge strane iživljavaju svoju moć nad nevinim i bespomoćnim ljudima. Priroda može bez lovstva, može bez lovaca, ne treba joj čovjek s puškom koji će uništavati život da bi ga navodno očuvao ili uspostavio u njemu ravnotežu. U tom smislu uvođenje neautohtonih vrsta u neka prirodna staništa je problem koji stvaraju upravo lovci i onda, što je također vrhunac cinizma i licemjerja, dolaze da bi riješili taj problem."
– izv. prof. dr. sc. Hrvoje Jurić, filozof i književnik
"Inače sam iz Slavonije i odrasla sam u obitelji mesojeda i lovaca. Nikada to nisam shvaćala i osuđivala sam. Često sam se pitala kako mogu loviti životinje koje im ne štete i često sam nailazila na ne odgovor i uvijek mi je bilo jako žao životinja koje su nevine stradavale u njihovom pohodu. Vrijeme je da pustimo životinje na miru. Probajte se staviti u poziciju srne ili medvjeda koji pokušavaju pobjeći od vas, a vi pucate na njih. Uvijek uspoređujem takve situacije s ratovima. Vrijeme je da postanemo empatični i da zabranimo krvi i ubojstvo i postanemo vegani. Probajte stati na kraj lovu i probajte promijeniti zakon. Lov kao sport je društveno uvjetovan u malim sredinama i mislim da je vrijeme da stanemo tome na kraj."
– Anamarija Prgomet, Ništa otpada (Zero waste)
"Ako životinje volite nemojte da ih lovite. Čuvajte ih poštujte i pomozite."
– Vlasta Sikimić, filozofkinja, Filozofski fakultet Beograd
"U prošlosti ljudi su lovili životinje kako bi preživeli. Danas to rade iz zabave i sporta. Lov je apsolutno nepotrebna praksa kojom se oduzimaju životi životinja koje ne žele biti ubijene. Recimo NE lovu."
– Tamara Jevtović, potpredsednica udruženja Sloboda za životinje iz Beograda, master prava i
– Davor Marković, vegan aktivista udruženja Sloboda za životinje iz Beograda, apsolvent pravnog fakulteta, organizator grupe Anonymous for the Voiceless.
"Smatram da je lov odnosno ubijanje životinja jedan brutalan, agresivan i vrlo nehuman i neplemenit način da se svjesno drugom živom biću oduzme život zbog nekakvih osobnih sebičnih razloga. Mislim da lovci uopće nisu svjesni da i životinje osjećaju i da životinja pate i da u tim trenucima doživljavaju jako visoku razinu boli i mislim da je to strašno. Mislim da se istovremeno sve te emocije i hormoni koje ta životinja u tim trenucima smrti luči se nesvjesno unose u organizam osobe koja to jede i mislim da to nikako nije zdravo i nikako nikako to ne podržavam. Sve te životinje koje lovci ubijaju su tako sad raritetne, sve je manje lisica sve manje je svih tih šumskih, divljih životinja i umjesto da gledamo načine kako da ih zaštitimo i jednostavno da podržavamo tu njihovu egzistenciju koja je stvarno ugrožena zbog širenja gradova, cesta … Inače vegetarijanka sam 13 godina, veganka godinu dana i jedan od trenutaka koji mi je dosta otvorio oči vezano uz jedenje mesa i konkretno ubijanje životinja je bio kad sam čula kako susjed ubija svinju i ona je stvarno ispuštala strašne krikove i nikad to neću zaboraviti. Uvijek sam se pitala kako bi bilo meni da meni neko tako nešto radi. Mislim da je najveći problem ta nesvjesnost što ljudi jednostavno nesvjesno rade takve stvari, idu u lov ubijaju te životinje, kasnije ih konzumiraju i uopće ne razmišljaju što rade globalno, koliko te životinje pate, koliko u biti sebi škode uopće konzumirajući tako meso i gdje je tu ljubav, gdje je tu ljubav prema prirodi prema životinjama, prema drugom biću."
– Glorija Začkaj, aktivistica
A pogledajte i što lovci kažu sami o sebi, kako si dodjeljuju međusobno priznanja, koliko novaca lovačka društva imaju i kako su kupili vilu od milijun eura te kako unatoč toj investiciji Hrvatski lovački savez koji broji 1050 lovačkih udruga ipak ostaje u dobiti od oko 5 do 6 milijuna kuna za 2017. godinu, a ne zaboravite da sve te njihove "aktivnosti" i bogatstvo počiva na masovnim ubojstvima nedužnih životinja.
Zaustavimo iživljavanje i pucanje po nedužnim životinjama!
Vidimo se na prosvjedu! 😉