Piše: Zdenka Galić Landau
Zašto stajati?
Zapravo pravo pitanje bi trebalo glasiti zašto NE sjediti, jer je stajati posve prirodan čovjekov položaj.
O stajanju se nema što puno reći osim da je uspravnost osobina koja, koliko je poznato, pripada jedino ljudskoj vrsti. Isto tako treba primijetiti da jedino čovjek ne poštuje svoj prirodni položaj u skoro cijelom svom budnom življenju. Pretežit dio poslova je društvo organiziralo za sjedeći položaj, počevši od školskih dana. Vrlo je vjerojatno da je baš školski sustav zadnji kamenčić koji je taj položaj zacementirao pa čovjek dobivši sjedenje "zdravo za gotovo" niti nije u prilici razmisliti. Čovjek je uz to većinu svog života toliko zaposlen da ni inače nije u prilici misliti budući da mu je pozornost uvijek ili skoro uvijek zaokupljena "važnijim" temama. Vremena za razmišljanje imaju tek umirovljenici ako nisu previše bolesni.
Dakle, zašto NE sjediti?
Jedan od mišića na čovjekovu tijelu zove se "veliki slabinski mišić" (Musculus psoas major). Taj mišić se postranično proteže s obje strane kičme od 12-tog prsnog kralješka do 5-tog križnog kralješka. Od križa prolazi kroz abdominalni dio trbuha, preko bokova i srasta na natkoljeničnim kostima. Tako je psoas jedini mišić koji kičmu povezuje s nogama. Sjedenjem se ovaj mišić skraćuje što u konačnici uzrokuje bolove u leđima. Zbog savijanja kičme, koja se dogodi zbog skraćenja psoasa, nastaju probavne smetnje, kao i smetnje rada drugih unutrašnjih organa. Još je Jean-Jacques Rousseau davno primijetio da sve čovjekove bolesti imaju uzrok u probavnom sustavu. Neki terapeuti ovaj mišić nazivaju "mišićem duše" odn. doživljajnim organom ljudskog organizma. Liz Koch – poznata američka terapeutkinja i autorica knjige "The Psoas Book" upućuje na ozdravljujući učinak psoasa na tijelo i dušu. Depresiju i mnoge druge duševne smetnje također vezuje uz ovaj mišić. Kineska medicina s druge strane pored ostalih načina pomaganja zdravlju upućuje na refleksne točke stopala koje masiranjem stimuliraju rad unutrašnjih organa. Isto to radi i čovjek vlastitom težinom pri uspravnom stojećem položaju. Ako se dakle učinak sjedenja na psoas s jedne strane te učinak "masiranja" refleksnih točaka na stopalima s druge strane dovede u svezu, tada je rezultat STAJANJE kao spoj obje spoznaje.
Ovo sam saznala tražeći razloge zašto je moje zdravstveno stanje tako izuzetno uznapredovalo otkad sam počela stajati prije 11 mjeseci. Naišla sam također na podatak da subliminalno stimuliranje genitalnih i analnih zona uzrokuje tupost i princip stada. Taj podatak dovodim u vezu s porastom svijesti koju primjećujem kod sebe otkad stojim. Istina je da ja nemam grupu uspravnih ljudi da bih mogla promatrati učinak stajanja kod drugih jedinki, ali imam dovoljno pokazatelja da mogu zaključiti da se stoj odražava pozitivno na jasnoću stanja duha.
Ipak mi je najfascinantnija činjenica da ljudsko tijelo MOŽE stajati cijeli dan bez ikakvog problema. U početku nisam mislila da je tako. Imala sam skoro 61 godinu i prvi dan nakon stoja sam bila pozitivno zapanjena: "Pa ja to mogu"! To mi je bilo nevjerovano otkriće. Kao i kod mnogih jedinki tih godina, kičma, a s njom i poremećaji drugih organa koji se jednostavno nazivaju starenje, su bili uznapredovali. Stajanje je u početku uzrokovalo i bolove u području vratne kralježnice, bokova, koljena, križa, ali nisam odustajala. Bolovi su prolazni i izdrživi. Pomažu vježbe istezanja, ali i bez njih su ti bolovi, podnošljivi i prolazni. Oni su samo pokazatelj oporavljanja. Budući da vježbe istezanja trebaju biti ciljne i stručne, želim naglasiti da se može i bez njih. Koliko će pak bolovi trajati ovisi o početnom oštećenju kičme. Kod oporavka su bolovi normalni i izdržljivi.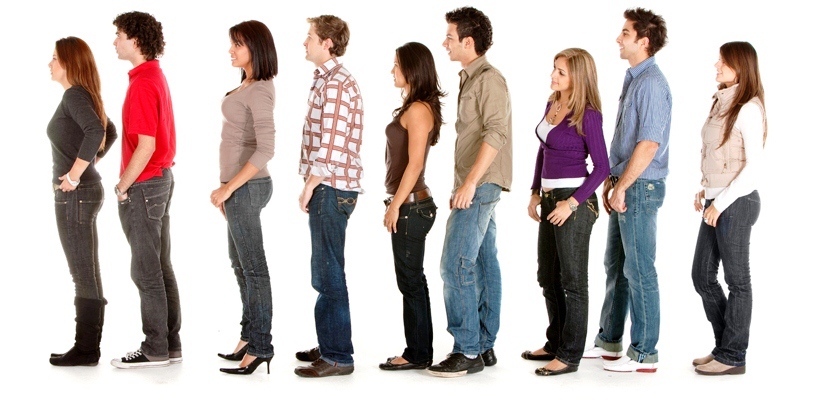 Pogodnosti koje nudi stojni, nesjedilački, način življenja su mnogobrojne. Navela bih samo neke od njih: kvaliteta i dubina sna, tj. potpuno oporavljanje, eliminacija stresa, probava i kontrola količine hrane, rast i stanje vlasišta, ugoda i lakoća kretanja, cirkulacija i krvni tlak, smanjenje i nestanak natečenosti nogu kao i višak nakupina vode na drugim dijelovima tijela, kvaliteta vjere u sebe i Stvoritelja ma tko On bio i to bez straha i s velikim povjerenjem u budućnost, kao i mnoge druge promjene. Ipak iznad svega izdvajam stanje bezrazložne radosti kao osnovni osjećaj duha te jasnoća stvarne slike svijeta. Naime, lako je prepoznati da neke ili čak i mnoge teze jesu izokrenute, ali jasnoća o kojoj govorim je te kvalitete da se "na prvu" vidi rješenje. Stoga držim da će ljudski um stojnim načinom življenja toliko uznapredovati da možemo već sada biti posve bezbrižni u pogledu budućnosti ljudske vrste.
Imamo rješenje: LJUDSKA PRIRODA!
Upute za stajanje i vježbe:
Stajati preporučujem bosonogo ili u ravnoj obući.
U ravnoj obući tijelo se može povremeno dovesti u stanje "titranja" na prednjem dijelu stopala. Dovoljno je samo par milimetara se izdići i kao u stanju nestrpljivosti koje se može često primijetiti kod djece, na mjestu titrati (nemam prikladnije riječi). To odmara i opušta.
U visini ramena potpuno raširiti ruke i zadržati ih oko 2.5 min. Ova vježba se može izvoditi stojeći ili šetajući. Bitno je zadržati ruke oko 2.5 min. jer je to minimalno vrijeme da bi vježba djelovala ispravljajući gornji dio kičme.
Zatezanje koljena i prednjih natkoljeničnih mišića. Ovo se može također lako postići ako se gornji dio tijela lagano nagne unatrag. Automatski se zatežu i koljena i natkoljenični mišići, ali i što je naročito bitno za starije jedinke, time se zateže i podiže donji dio trbuha. Za početak opet preporučujem 2.5 min. Kasnije će taj stav postati uobičajen i trajan. Bas ti mišići donjeg trbuha imaju veliki utjecaj na osjećaj sitosti pa se usuđujem tvrditi da je sjedenje uzrok pretilosti, naročito kod mladih.
Zbog svega navedenoga skrećem pozornost na potrebu organiziranja obrazovnog programa u uspravnom stajaćem položaju. Umjesto sjedenja potrebno je osigurati školski namještaj koji će djeci omogućiti naslanjanje leđima na čvrsti zaslon s podestima za ruke kako bi se mogli po potrebi nasloniti laktovima. Naslone u ovom slučaju preporučujem zato što je kod djece inače primjetna težnja da pri nesigurnosti, a toga u školstvu zaista ne manjka, rado potraže naslanjanje.
Stoj/te dobro!

---
Zdenka Galić Landau
Rođena sam 27. 10. 1956. god u Ljubotićima (BiH). Osnovnu školu sam završila u Kočerinu, a gimnaziju 1975. god. u Lištici (sad Široki Brijeg). Pravni fakultet sam završila 1980. u Mostaru, a pravosudni ispit sam nakon propisane pripravničke prakse u Općinskom tužilaštvu Varaždin, položila u Zagrebu 1983. god. Nakon prikupljenog dovoljnog broja godina pravnog iskustva u odvjetništvu, u općinskim službama Općine Šibenik, kao i obavljanjem pravnih poslova u javnoj firmi u Zadru (uz što sam od 1992. god. obavljala kućanske poslove i vodila skrb o djeci), 2004. sam u Zagrebu položila ispit za notara, a 2006. god. sam potražila zaposlenje u Njemačkoj.
2007. sam započela, a 2008. god. dovršila školovanje za pomoćnu njegovateljicu starih. Iste godine sam započela školovanje za medicinsku sestru te položila državni ispit u Marienhospital Darmstadt 2011. god. Iste godine sam započela studij na Visokoj školi u Darmstadtu smjer njega i zdravstvena skrb. Nažalost, ovaj studij sam prekinula u petom semestru, zbog ozljede koju sam pretrpjela na putu u starački dom, gdje sam obavljala praksu za studij. Zbog istog razloga sam umirovljena 2013. godine.
Imam troje djece i za sada troje unučadi. Rastavljena sam i živim sama. Govorim i pišem hrvatski i njemački jezik, a poznajem i osnove engleskog. Imam vozačku dozvolu i poznajem osnove rada na računalu.